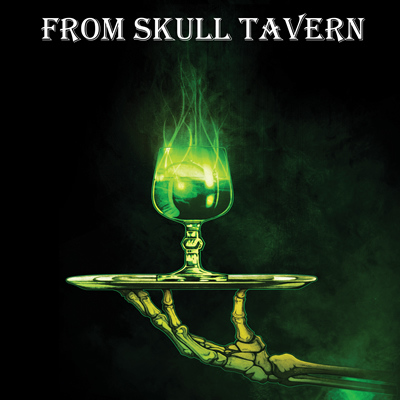 FROM SKULL TAVERN
(P.I.C. Publishing 2017)
This CD is a collection of Halloween/Horror-themed music in multiple genres.
Recorded/Mastered by Ron Roy
Threshold Sound in Kitchener, ON.
Cover Art by Zach McCain.
Buy the CD on Paypal:
Available online:
Song List
(Links to lyrics and more info)
---
Verse I:
I need to tell you that I'd rather be wicked
And I don't want you to save me
I have a secret and I'll take it to the grave
My soul is as black as a crow
So bad you'll never know
Rather have a black cape than the white wool
Cover my eyes
The darkness is at least
Honest with me

Chorus:
Some people dream of a white Christmas
All I want is a dark Halloween
A dark Halloween

Verse II:
I need to show you my evil mask
And not put on a happy face
Don't ask me to sing your pretty songs
Let me hide till my eyes have dried
Enjoy my clever disguise
Rather have a nightmare than a white haze
Filling my mind
When you turn your lights off
Maybe... You'll think of me

Chorus...

Bridge:
Grim Reaper and skeletons
Demons and gore
I want to terrify you
You're not a kid anymore

Chorus X2...




Brett Savory – Drums
Kaden Italiano – vocals
Tommy Italiano – vocals

This song became known as "The Albatross" and "The Haunted Song" because of the strange problems it caused. None of the other songs had these things happen:
- Lyrics had to be rewritten three times
- Bass track disappeared, not even in backups that were found as far back as 2015, but there was one recording with proof that it was indeed, recorded
- When turning up guitars, software shut off sound for that track only, six times, with witnesses
- Random tacks would drop silent mid-song for no reason while playing back in studio
- Engineer's software continuously crashed while working on this song (most often during the "demons" lyric), to the point where it was the only time I've seen Ron vehemently curse demons
- When mix was delivered, vocal tracks disappeared and song had to be resent
- When all songs were copied to Dropbox, this song is the only one that required moving over more than once before the transfer was successful
- Two remixed versions of ending, deleted from cell phone with no explanation, all other songs remained

If this song crashes you computer, bricks your phone, or your car instantly combusts, we apologize in advance.

---
Verse I:
It's like any other day
Until my fingers start to twitch
I need a special kind of scratch
For a special kind of itch
I'm in your rear-view mirror
I'm behind you in a line
Walking past you in the subway
I always bide my time

Chorus:
I'm never gunna apologize
It's in my blood, there's no denying
Red – I see Red
It's in my head
I see Red

Verse II:
I'm always neat and tidy
I never leave a trace
They'll think that you've gone missing
Just another unsolved case
The cops will never find me
I'm just a step ahead
They're wasting all their time
Just digging for my dead

Chorus...

Verse III:
No medicine will help me
No-one's love embrace
Could ever fix the demon
That hides behind my face
I'm here to say don't bother
To try to bless me Father
('Cause) When I go to Hell
It's gunna get much hotter

Chorus...




Brett Savory – Drums
---
Verse I:
It's 5 in the morning and I wake my sleepy head
I shake off the cobwebs and slip right out of bed
Down the hall with tiny steps I keep my blanket on
A week's gone by, and to a child that time is far too long
Up before the sun, ready for some scary fun

Chorus:
The castle lights are growing dim
Sitting all alone, there's no one left but me and him
It's how my weekend would begin
Lying by the TV light
Just me and Vincent, me and Vincent Price

Verse II:
His floating head with eyebrow up and lightning in behind
His many hats and capes, with props of any kind
A crystal ball or candle, wearing, long-fingered gloves
Spooky rhymes that end with that evil laugh we love
Up before the sun, ready for some scary fun

Chorus...

Moog solo

Chorus...




For all the fans of the Canadian TV hit show from the 70s, The Hilarious House of Frightenstein!
---
Verse I:
My fellow Countrymen
I bring to you today
A message of hope for our future
Democracy has won again
As we drive forward together
And fight for our dignity
I stand before you with pride
As your leader of our beloved Nation
I will not compromise
Your TRUST

Chorus:
I believe in Freedom (Grant us Liberty)
I guarantee security (Keep us safe)
I offer you the right
To tear arms
I will grant you the right
To tear arms

Verse II:
I promise to march
And crush our enemies
I promise to join the battle
To be a leader of champions
And fight for your lives
Our Country deserves victory
As leader of this beloved nation
I'll win your confidence
And your TRUST

Chorus...

Verse III:
Alas, my fellow Countrymen
You don't know that so long ago
I had chosen the moon
But why, some say, the moon?
Because that's when I bear my fangs
Rip through this skin for my fur
I transform before you with pride
Ready to run this land
And feast on
Your TRUST

Chorus...




Brett Savory – Drums

This song was written long before the Clinton/Trump presidential race.

Trust us.

Bigly.
---
Verse I:
You love him no matter what
He ain't no angel, honey
He's there to warm the bed
But he's got no money
One night you meet a mystery man
He seems so nice, do you change your plans?

Chorus:
You just don't know how things will go
You're better off dealing with the devil you know
It might be bad but it could get worse, whoa!
You're better off dealing with the devil you know

Verse II:
Sitting at your desk
Pounding out each hour
Secure, get paid repeat
Locked up in your tower
A new job could be there for you
It's time for change, what will you do

Chorus...

Devil monologue:
What if I could get you anything you want, yeah come on you just have to ask.
Well cross out rock star and put astronaut, that's fine
It won't cost you much…Just your soul

Chorus...



---
Verse I:
I have a question
For all the Americans
Why are you always rushing around?
If you shuffle along
You just can't go wrong
There's too much fast food in your town

Chorus:
No run no worry
Everybody's always in a hurry
No run no worry
I'll get you anyway, man

Verse II:
I walk slowly with
Just a little stumble
I'm going to blame it on the heat
Some people here
Like their special spices
And that makes for great Street Meat

Bridge:
I'm not going to wag my tongue
I'm not keeping an eye on you
Not because I don't care
But my eye and tongue are gone

Overlap Chorus with:
No problems in this nation
Only situations




Allister Bradley – Keyboards

Possibly the only Reggae Zombie song in existence.
---
Verse I:
There was a hot rod burning up the road one day
It was time for race and he would make them pay
For all the times they told him he was late
Well he never saw that tree till it was right there in his face

Chorus:
Walking over the edge, letting go of the line
It all comes back to you
Running out of air, running out of time
It all comes back to you
Driving through that red, or that stop sign
It all comes back to you

Verse II:
There was a group of friends who thought that they could fly
In an old machine they went up to a cold and cloudy sky
One at a time they jumped out of that plane
They pulled their cords in hopes that they would live another day

Chorus...

Bridge:
You have to slow it down and take it in
No matter what you do
'Cause you never really know what could be the end of you
Be the end of you

Verse III:
There was an young man lying in old man's bed
He would never be the same, at least that's what the doctor said
He took too much of special pills one night
Now he's hooked up to a lung machine, that's keeping him alive

Chorus...




Brett Savory – Drums
---
Verse I:
Go to work, come home, eat, watch TV
Brush your teeth, nightmares, nightmares
Alarm goes off, get up, shower, do your hair
Fix your hair! Fix your hair! Fix your hair!

Chorus:
Your claw digs through my skull
And reaches into my brain
Planting worms and weasels and ticks
Making me insane
I'm not having a bad hair day
It's the crazy seeping out

Verse II:
I feel… I feel… I feel…
Your judgement, my anger, the tension, your pain, the rain
Loud sounds, bright lights, city sights
Battered, scattered, and shattered, and tattered
Make it stop! Make it stop! Make it stop!

Chorus...

Spinout:
I'm not having a bad hair day
Shower dry your hair fix your hair
Make it stop! Make it stop! Make it stop!
I'm not having a bad hair day
It's the crazy leaking out




Loosely tied to the novel The Starving Queen, this song is a glimpse into the daily frenzy that can accompany mental illness. The frantic and desperate attempt to get through a day, falls apart in the same way that the music loses structure - not always obvious to the average person unless you know what to look for.
---
Verse I:
Doc I can't say I've had better days
I look and smell bad too
Clothes don't come in sizes like me
I can't find this kind of shoe

Chorus:
Lots of people have scars
Everyone dresses as strange as can be
So as far as I can see
There's a problem with me personality

Verse II:
I've got this scar, I've got this one and that
My neck bolts are so sore
I do my best just to keep real neat
So what's their anger for?

Chorus...

Verse III:
Labelled as a monster
I have no name to sign
Confused with someone who's losing their mind
They call me Frankenstein

Solo

Bridge:
I need the power of Jung and Freud
To find out why they're so annoyed
I don't have a childhood memory
Can you tell what is wrong with me?

Chorus...

Kaden Italiano – percussion
Tommy Italiano – percussion

This song is based on and quoted from the Joe R. Lansdale short story "Personality Problem" © 1982 Joe R. Lansdale
---
Instumental